Joe Bella
The day started easy, managing quite well to gather ourselves, and get ready to depart from Kyoto and arrive at the exciting city of Tokyo. The train ride was smooth and we were hoping to get a view of Mount Fuji, sadly when we came close enough to get a view of the mountain, clouds had rudely covered it. Getting over the disappointment of the clouds misbehaviour quickly, we arrived in Tokyo. Managing to escape the train station, we headed for the hotel to drop off our luggage. 
We went to Tokyo dome (which is a small theme park), it had a huge roller coaster called the 'thunder dolphin'. Only a few of us went on this ride, we all thought it was really fun. Those who didn't enjoy the thrill of the ride got to experience the questionable company of enthusiastic cosplayers, and enjoy watching and listening to the crowded Jpop Band.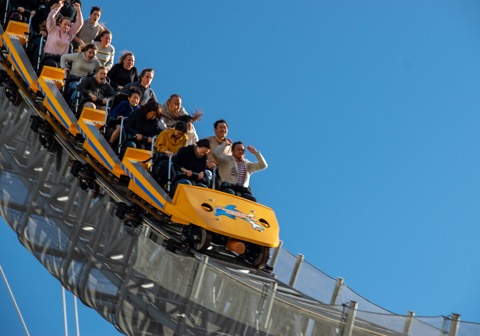 At about 5:30 we went to Akihabara 'the electronic and Anime shopping suburb'. We were allowed to wonder around for a total of about one and a half hours, then after we went out to eat ramen for dinner which was delicious! After an excellent meal, followed by foreign ice cream, with tired feet we made our way back to the hotel. 
 View from our hostel