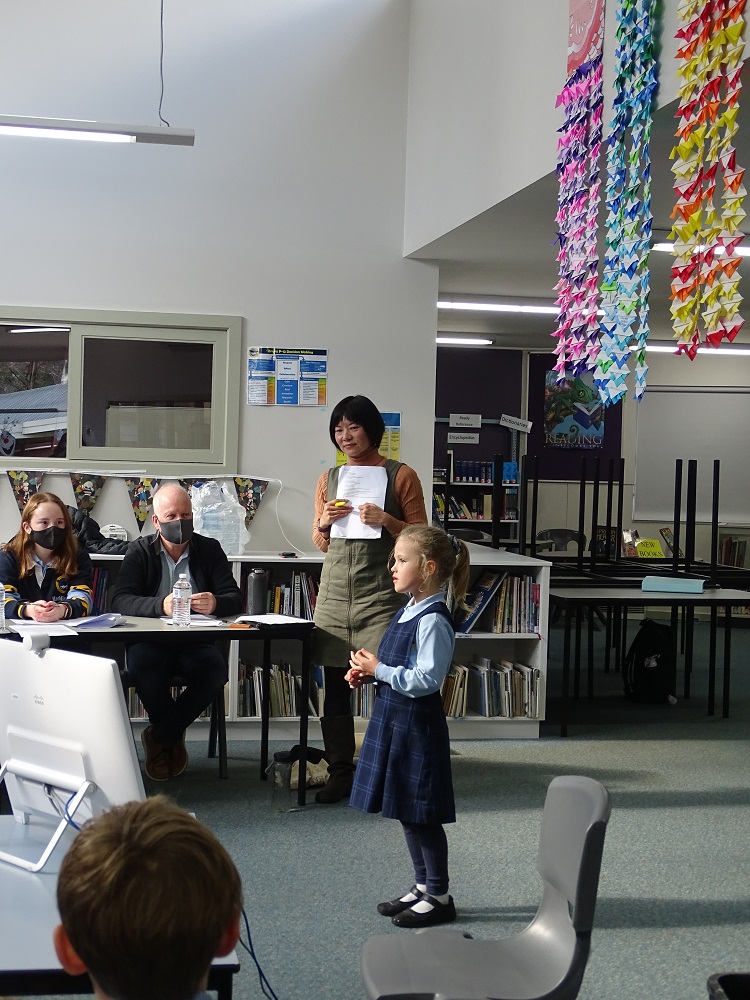 75 students competed in the Primary Japanese Speech Contest at the end of Term 2. Students had to memorise individual and pair speeches and present without the aid of notes. All students made a tremendous effort to do this, making the judges' task very difficult. We would like to thank guest judges, Risa Meddings, Alex Campbell, Maddie Dodd and Libby Gallagher. Also a huge thank you to Keiko-sensei and Noriaki-san for all the organisational work.
The beautiful decorations were made by the primary Japanese students. They are koi carp which are used for koinobori decorations for Children's Day in May in Japan. 
Note - If students would like a copy of their speech and photos they can bring Keiko-Sensei a USB and she can copy them.
Full results 
Prep Individual
1. Hanna
2. Rebecca
3. Heidi
Honourable Mentions
Scarlett, Gypsie, Callen, Poppy
| | | | |
| --- | --- | --- | --- |
| Year 1 Individual | 1. Beatrice | 2. Billy | 3. River |
| Year 1 Pairs | 1. Murphy & Fergus | 2. Jack & Owen |   |
Year 2 Individual
1. Sophie
2. Law Ya
3. Erica
Honourable Mentions
Jagger, Sophie, Jackson, Emerson, Theo
Year 2 Pairs
1. Josie & Jordan
2. Yuna & Maddison
3. Heidi & Zoe
Year 3 Individual
1. Hannah
2. Elise
3. Oscar
Honourable Mention
Marshall
Year 3 Pairs
1. Scarlett & Eliza
2. Ingrid & Layla
3. Dylan & Eleanor
Pairs Honourable Mention

Phoebe & Maisy
Year 4 individual
1. Charlie
2. Penny
3. Nate
Honourable Mention
Robert
Year 4 Pairs
1. Stella & Millie
2. Tilly & Mya
 
Year 5 Individual
 1. Bridget
 2. Rhylee
 
Year 5 Pairs
 1. Sienna & Meg
 2. Sophie & Lola
 3. Audra & Abby
Pairs Honourable Mentions
 Amelie & Josie; Tashan & Samantha
Year 6 Individual
1. Zanna
2. Jared
3. Ayla
Year 6 Pairs

1. Penny & Addyson

2. Michaela & Zoe
3. Renae & Millie
Pairs Honourable Mentions

Luke & Lachlan; Cash & Harry